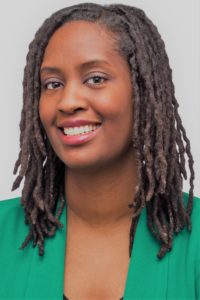 Early Years
Stephanie is a native of Virginia Beach, VA and the middle of three children raised by a single mother. While financial resources were often limited, Stephanie's family instilled in her a passion for faith, education and community.
As a student at Hampton University, Stephanie majored in political science with an eye towards law school. Concerned about human and civil rights, Stephanie was a founding member of the campus Amnesty International Chapter and active in the Women's Caucus.
Before pursuing graduate or law school, Stephanie decided to become an AmeriCorps VISTA. With great role models in her family and community, Stephanie sought to be an advocate and resource for other young people.  Serving as a mentor administrator at a Delaware public high school, Stephanie established a mentoring program for future first-generation college students. Because Stephanie was the first in her own immediate family to complete a college degree, she could personally identify with her mentees' anxieties and challenges about navigating the college admissions process.
State Policy-making 
After AmeriCorps, Stephanie earned a Masters in Urban Affairs and Public Policy with a concentration in Urban and Regional Planning Policy from the University of Delaware. Working with the Delaware State Housing Authority, Stephanie authored a whitepaper that laid the foundation for a state law allowing residents of manufactured housing communities the opportunity to establish community cooperatives. Due to Delaware's ongoing challenges around clean air and legacy industrial pollution, Stephanie expanded her concerns around housing affordability to include the impacts of environmental degradation and public transportation access. Later enrolling at Howard University School of Law in Washington, D.C., Stephanie served as the campus American Civil Liberties Union (ACLU) Chapter President, 3L Class President and participated in the Fair Housing and Environmental Justice Clinics.
Federal Policy-making
After law school graduation, Stephanie was selected to be a Congressional Black Caucus Foundation Fellow. While working for a Member of Congress, Stephanie handled a legislative portfolio covering affordable housing, labor, women's issues, and the environment. Arriving on the Hill in the midst of the foreclosure crisis and the development of the Affordable Care Act, Stephanie worked to secure resources for struggling homeowners and protections for family planning resources.
Eager to focus her policy expertise, Stephanie later joined the staff of Earthjustice, the nation's largest nonprofit environmental law firm. As a federal clean air advocate, Stephanie fought for stronger air quality standards to benefit the Baltimore-Washington region.
Working Towards a Better Baltimore
The Smiths are proud to call the 45th District and Baltimore City home. Nearly a decade ago, Stephanie and her husband Calvin purchased their first home in the Waltherson community in Northeast Baltimore. They were later joined by a dog Hendricks, Stephanie's mother Kathleen and their son Parker. The Smith family currently resides in the Middle East community.
By day, Stephanie serves as an Assistant Director in the City of Baltimore, Department of Planning focusing on Equity, Engagement and Communications. Committed to building a more equitable Baltimore for all residents, Stephanie currently serves on the City's Community Relations Commission. Stephanie has also served on the executive boards of the Maryland-DC Audubon Society, the Greater Baltimore Health Improvement Initiative and the Greater Baltimore Leadership Association (Baltimore Urban League Young Professionals Auxiliary).
Each day, Stephanie wakes up excited and motivated to take her community leadership to the next level in her beloved Baltimore.
Authority
Friends of Stephanie Smith | Authority: Raymond Card, Treasurer